The annual ITE HCMC is an effective trade platform for both domestic and international enterprises to share, discuss and cooperate for both inbound and outbound travel businesses in Vietnam and the Mekong region. ITE HCMC 2016 provides exhibitors an excellent platform to launch and better understand the tourism market in this region.
"ITE HCMC has been an opportunity for countries in the Mekong Basin: Cambodia, Laos, Myanmar, Thailand and Vietnam, to gather in Ho Chi Minh City." - Hoang Tuan Anh, Member of the Central Party Committee, Minister.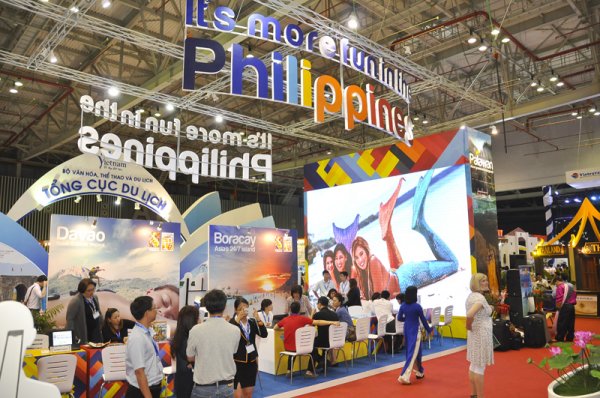 The International Travel Expo in Ho Chi Minh City has become a trademark not only of Vietnam but also of the downstream Mekong countries with rich content and various activities, attracting the participation of domestic and international tourism promotion agencies and travel companies. According to, the 11th International Travel Expo attracted the participation of 250 exhibitors from 21 countries and areas, 27 provinces in Viet Nam.
The International Travel Expo Ho Chi Minh City – ITE HCMC 2016 is expected to have the participation of 270 exhibitors, 250 international buyers and about 300,000 visitors.
Hosted Buyer Programme
Especially, ITE HCMC 2016 will focus on Buyer program in order to effectively attract regional and international buyers. Besides, after the end of the event, international buyers will have opportunities to survey and experience new tourism destinations of Vietnam, whereby they can build typical tourism products for international tourism markets. This will be a great opportunity for regional tourism promotion agencies, entrepreneurs and related service providers to find international partners, introduce tourism products and expand business co-operation opportunities to major and potential international markets.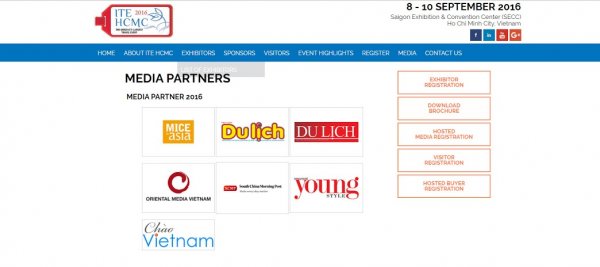 ITE HCMC received strongly support of the tourism industry
To bring about an international event with more and more diverse programs and high quality, the organizers have been working closely with the support of government agencies, the tourism association and the communication unit in order to create effective platform for domestic and foreign enterprises to exchange, discuss and cooperate of tourism market in Vietnam inbound and outbound and Mekong region.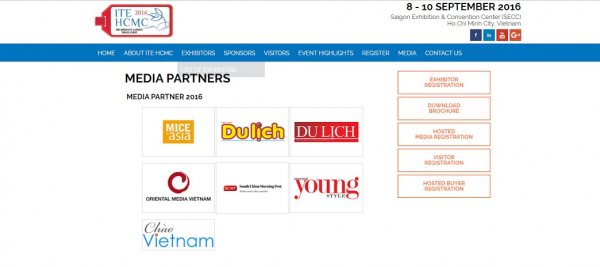 Main activities of this event include:
International Tourism Fair
Regional and International Hosted Buyer/Media Programs
Opening Ceremony – Gala Dinner
Mekong Tourism Alliance Award
Roadshows for Destination
Seminar on Key Tourist Markets Perspective,
Travel Fun Fair Day (for all public visitors).
ITE HCMC 2016 is proudly supported by:
Ministry of Tourism, Cambodia
Ministry of Information, Culture and Tourism, Lao PDR;
Ministry of Hotels & Tourism, Myanmar
Ministry of Tourism and Sports; Kingdom of Thailand